Unified by a higher standard.
Design is more than aesthetics—it's an experience. And it starts with an exceptional team.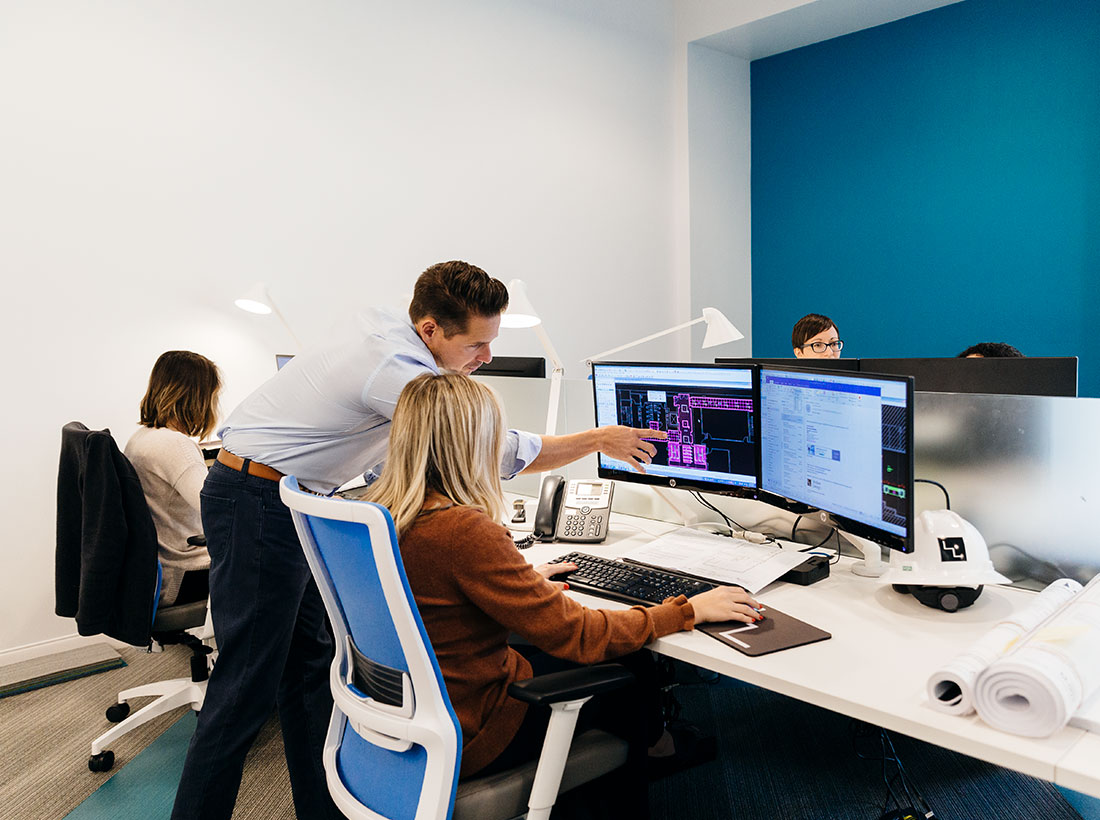 Everyone on our team has a specialty, an area of interest where they come alive. Despite these differences, we're unified by a higher standard for design. Our individual strengths complement each other, coming together to discover and create the ideal solution for your project. No settling. No excuses. Our passion for perfection, for true design, drives us to new heights of innovation. Join us on the journey, and together we'll get there.
Team
Toby Walker
AIA, NCARB, LEED AP
Toby Walker
AIA, NCARB, LEED AP
President
Highly motivated and creative, Toby's passion is crafting award-winning architecture and design. His work has been recognized on local and national levels for Design Excellence. Toby's work evolved from his education at the University of Florida, as well as his studies and travels abroad. Believing good design is in the details, each of his projects develop a unique identity as they respond to the people, function, and context to which they belong.
Professional Credentials
Registered Architect: Florida, Texas, Kansas, Illinois
Registered Interior Designer: Florida
U.S. Green Building Council LEED Accredited Professional
AIA / NCARB Certified
Education
Master of Architecture, University of Florida
University of West Florida, B.S. in Sports Medicine, Minor in Psychology
Jessica Gordon
IIDA Professional Interior Designer
Director of Interior Design
Jessica Gordon
IIDA Professional Interior Designer
Director of Interior Design
With a formal education in Interior Architecture from Florida State University, Jessica considers herself both a creative and grounded practitioner. Utilizing the skill set and motivation accumulated through her professional experience to date, she believes the design process is best executed through the implementation of collaboration and creative problem solving. "Great design begins with a great team and process". Jessica is continuously pursuing opportunities to expand her knowledge base while keeping up with evolving workplace trends. With a strong technical background, she finds that knowing how something functions and is assembled is the first step for innovative and productive design. Architecture and interior design shapes our daily spaces and she believes those spaces should be functional as well as beautiful, enabling life to be both creative and enjoyable.
Professional Credentials
IIDA
NCIDQ License No. 34474
Education
Bachelors of Interior Architecture, Florida State University
Ashley Ackerman
ASSOC. IIDA
Ashley Ackerman
ASSOC. IIDA
Designer
Ashley received her formal education in Interior Design from Miami International School of Art & Design. As a native Floridian and Orlando resident, Ashley is fond of Orlando's rich diversity and holds high regard for the city's ability to shape its community's design by balancing traditional and modern values. Ashley's lifelong passion for travel and her appreciation for architecture and culture has shaped her into the designer she is today. She believes that "design is in the details, and attention to even the smallest of a project's elements is an intricate part to any successful design." With a focus on environmentally-conscious design and the betterment of occupant-wellness, Ashley believes in learning the true essence of a space and executing a client's needs through individualized branding and story-telling. While cultivating her design knowledge and experience, Ashley is pursuing her Interior Design license and LEED certification. She hopes to pursue her well building certification in the near future.
Education
Miami International School of Art & Design
Ryan Wilson
ASSOC. AIA
Designer
Ryan's interest in architecture began at an early age, a natural born curiosity in the built environment. This curiosity transitioned into a desire to understand how buildings were designed and constructed which motivated him to attended and earn his Bachelor's degree in architectural studies from Florida Agricultural and Mechanical University in Tallahassee, Florida. After graduating from FAMU, he returned to central Florida and is now working as an associate designer while making the necessary steps towards earning his Master's degree and architecture licensure. When Ryan is not working he enjoys producing music. He believes that "Music evokes emotion that can alter ones spirit, and good architecture can have the same effect."
Education
Bachelor of Architecture, Florida A&M University
Devin Chase
Assoc. IIDA
Designer
Devin received her formal education in interior design at Florida State University with a Bachelor's degree in Interior Architecture. Embracing challenges and overcoming obstacles with creative solutions, Devin executes her designs with innovative layouts and a critical eye on the details. She believes that "if you surround yourself with great design aesthetics, it impacts the environment and the lives of the public" and implements this philosophy in all her work. With a proactive and collaborative work ethic, Devin strives to design spaces on par with the latest trends and technologies. Continuously pursuing opportunities to grow, Devin is in the process of completing her NCIDQ licensure and looks forward to applying the knowledge earned from her certification to her future designs.
Education
Bachelors of Interior Architecture, Florida State University
Leah Jones
Office Manager
After receiving a bachelor's degree in finance from West Virginia University, Leah relocated to Orlando, Florida from Pennsylvania to pursue a career that combined both her educational skill-set and day to day experience. She takes pride in her education and the opportunities that is has provided her. Because of her diverse skill set, Leah is a valuable team member to Walker Design that specializes in both problem solving and client interface. Her previous exposure to the construction industry allows her to excel with her daily tasks and provide valued knowledge and experience to the team. Leah recognizes the importance of organization and collaboration within the workplace, not only to ensure successful project delivery but to facilitate a dynamic office culture.
Education
Bachelors of Finance, West Virginia University
Values
Authenticity
Our designs embody your unique brand.
Innovation
Without change design stagnates, so we boldly challenge the status quo.
Expertise
We help you find true design solutions for your needs.
Pride
Architecture is our life's work, so naturally we talk about it. 
A lot. And passionately.
Community
Our work fosters community and increases productivity.