Unified by a higher standard.
Design is more than aesthetics—it's an experience. And it starts with an exceptional team.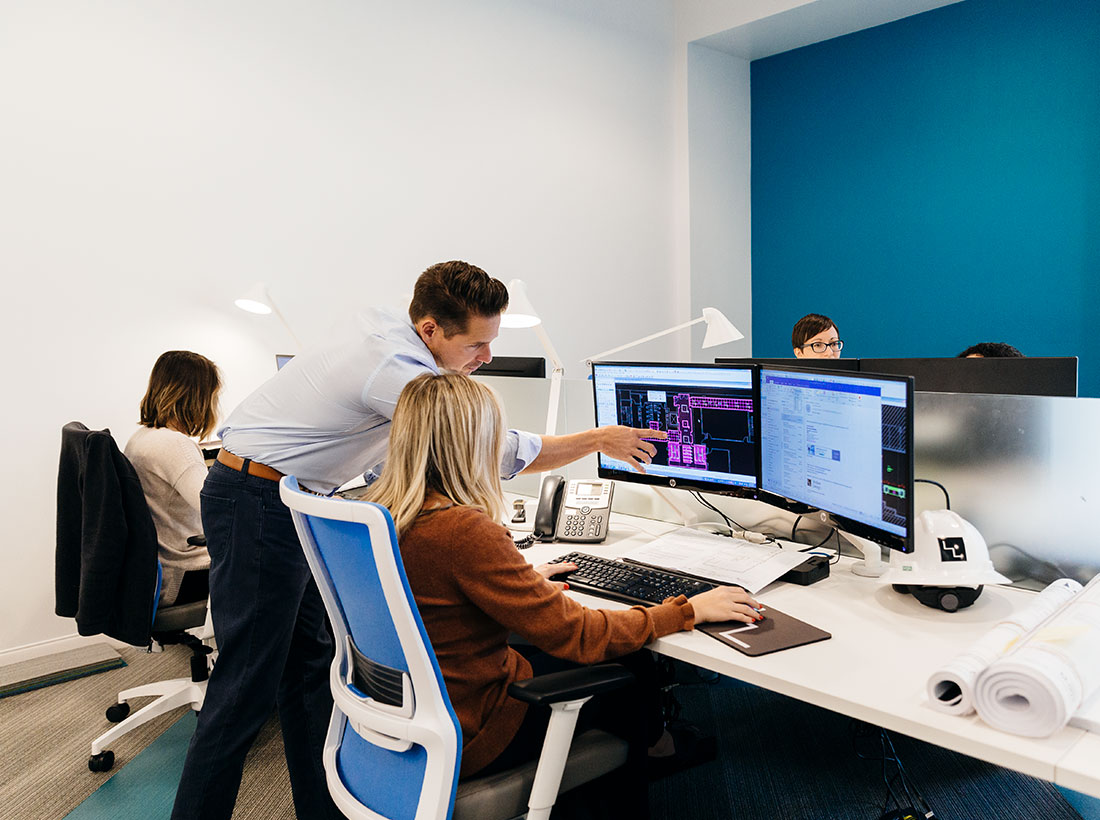 Everyone on our team has a specialty, an area of interest where they come alive. Despite these differences, we're unified by a higher standard for design. Our individual strengths complement each other, coming together to discover and create the ideal solution for your project. No settling. No excuses. Our passion for perfection, for true design, drives us to new heights of innovation. Join us on the journey, and together we'll get there.
Team
Toby Walker
AIA, IIDA, NCARB, LEED AP
President / Design Leader
Toby Walker
AIA, IIDA, NCARB, LEED AP
President / Design Leader
Innovative, authentic, and professional are a few of the words clients use to describe Toby's comprehensive approach to architecture and interior design. While perpetually seeking excellence in design, his passion lies in the art of crafting award-winning architecture. His work has been recognized on local and national levels for Design Excellence. Toby's design vernacular evolved from his education at the University of Florida, travels abroad, as well as eighteen years of professional practice in the design industry. Believing good design is in the details, each of his projects develop a unique identity as they respond to the people, function, and the context to which they belong.
Professional Credentials
Registered Architect: Florida, Texas, Kansas, Illinois
Registered Interior Designer: Florida
U.S. Green Building Council LEED Accredited Professional
AIA / NCARB Certified
Education
Master of Architecture, University of Florida
University of West Florida, B.S. in Sports Medicine, Minor in Psychology
Principal / Senior Project Manager
Dennis Uchida
AIA
Principal / Senior Project Manager
In his pursuit of experiencing design in a wide range of contexts, Dennis has acquired a variety of skills throughout his professional journey. With a Bachelor's degree and architecture licensure from Peru, Dennis has trained in Furniture and Interior Design in California, Construction and Lighting Design in Peru, and ultimately Architectural Design and Project Management in Peru and Florida. Utilizing the skill set gained through his diverse professional experience he has a confident understanding of the overall process needed for creating a unique and tailored design. As the next step for continuing his comprehensive learning of design, Dennis is in the process of earning his architecture license and PMP credentials.
Professional Credentials
Registered Architect Florida
AIA
Education
Bachelor of Architecture, Ricardo Palma University, Peru.
Aisa Andrus
Assoc. IIDA
Designer
With a degree in Interior Design Technology from Seminole State College, Aisa has been immersed in the Orlando design industry for the past five years. She has assisted and managed all avenues of interior design, from conceptualization to implementation. Passionate about all forms of design, architecture, and art, she has a vast understanding of how beauty and functionality come together in order to create balance, purpose, and evoke emotion. As an avid world traveler, she believes that our surroundings have a huge impact on our daily lives due to its influence on our frame of mind. She finds it is a great privilege to work with clients from all backgrounds, because she gets to know them on a deeper level and discover how she can express their uniqueness through design. She is committed to evolving, as design so often does, and is looking forward to pursing the completion of her NCIDQ licensure in the near future.
Education
Seminole State College, Bachelor of Science in Interior Design
Jayleen Rivera
Assoc. IIDA
Jayleen Rivera
Assoc. IIDA
Designer
Jayleen is a Sophomore in college transferring to the University of Central Florida in the Fall to pursue her bachelor's degree in interior design. She has grown up in Orlando and is intrigued by the cultural diversity present and the life experiences that can be acquired when becoming involved within a community. Diversity requires understanding, flexibility, and growth, which ultimately leads to innovation. Jayleen brings an innovative mindset and passion for learning to the team at Walker Design.
Education
Persuing her Bachelors Degree in Interior Design at the University of Central Florida
Audrey Bagley
Assoc. IIDA
Audrey Bagley
Assoc. IIDA
Designer
Upon earning an interior design degree at Auburn University, Audrey moved to Orlando in 2017 to begin her design career. Growing up passionate about art and architecture, her professional track was established at a young age as she continues to grow within the design profession. She has a keen interest in incorporating design and artistry into the built environment, while making every space more enjoyable to the visitor. This has helped her to dive into the design industry head first, and become more passionate about architecture along the way. Audrey excels in every phase of the design process, from project conception to project completion. She sees each client and project as an occasion for new experiences, new exploration and ultimately a new opportunity to make something great together. Audrey looks forward to the opportunities presented to her at Walker Design and looks forward to continued growth in the design profession including her pursuit of completing the NCIDQ licensing exam.
Professional Credentials
Education
Auburn University, Bachelor of Science in Interior Design
Paula Sosa
Assoc. IIDA
Designer
Paula received her bachelor's degree in Interior Design from Seminole State College in 2019. She has always had a profound passion for design, aesthetics and creativity while possessing a distinct awareness of the significance of one's surroundings. This early sensibility to aesthetics and the environment around her led her on a career path focused on interior design with a focus on commercial interiors. She believes design should be an immersive visual and spatial experience, combining creativity with problem solving to create efficient and functional spaces. With a strong drive to exceed client expectations, she welcomes the challenge to develop unique solutions and strengthen her expertise. She is constantly striving to further her knowledge in the field and is currently working towards her NCIDQ licensure.
Education
Seminole State College, Bachelor of Science in Interior Design
Jennifer Langham
Assoc. IIDA
Jennifer Langham
Assoc. IIDA
Designer
Jennifer graduated from Mississippi State University in 2021 with her Bachelor of Science in Interior Design. Originally from Gulf Breeze, Florida, she moved to Orlando to pursue professional development and a holistic understanding of the design profession. Developing an appreciation for art and design at a young age, a career in the design profession was inevitable. Jennifer believes that design shapes the world around us, and that as designers, we should thrive to create purposeful, beautiful spaces that will enhance the user experience. She feels that with the right team, opportunity, and experience she will flourish within the profession. Jennifer is currently working toward her NCIDQ licensure.
Education
Mississippi State University, Bachelor of Science in Interior Design
Administrative and Design Assistant
Kelly Deonarine
Administrative and Design Assistant
Kelly is currently a sophomore in college transferring to University of Central Florida in the spring to purse her bachelor's degree in interior design. She is originally from Toronto, Canada where she was introduced to new and diverse cultures. She has always had a passion for designing, travelling, and being introduced to new experiences. Through these experiences Kelly has gained a broad understanding of how different cultures engage in their environment and her desire is to design in a manner that is crafted specifically for the end user. Kelly is able to bring her broad understanding of people and her creative energy to the Walker Design team.
Values
Authenticity
Our designs embody your unique brand.
Innovation
Without change design stagnates, so we boldly challenge the status quo.
Expertise
We help you find true design solutions for your needs.
Pride
Architecture is our life's work, so naturally we talk about it. 
A lot. And passionately.
Community
Our work fosters community and increases productivity.
Awards
Design Excellence Award (Chiquita Brands Int.)
American Institute of Architects
Coolest Office Awards (Lighting Partners)
Orlando Business Journal
Coolest Office Awards (Uproar PR)
Orlando Business Journal
Coolest Office Awards (Relevant Media)
Orlando Business Journal
Honorable Mention Design Award (Ellucian)
American Institute of Architects
Coolest Office Awards (Harper Limbach)
Orlando Business Journal
Florida/Caribbean Architect Project Profile (Hawkers HQ)
American Institute of Architects
ABC Golden Eagle (Riegl USA _ Headquarters)
American Builders and Contractors